A Story is the Wind:
LIVING LANDSCAPE PROJECT
Clocks and Vanes by Gwen van Embden and Pippa Skotness
30 August 2002
A story is in the wind: representing time and space in san narratives. Traces become stories , stories become journeys, journeys become experiences.
The Kinetic objects (clocks and wind vanes), created by Pippa Skotnes and Gwen van Embden and installed at the University of Cape Town's field station in Park Street, Clanwilliam were inspired by a reading of the 19th century stories of the /Xam and !Kung and by images found in rock paintings in the shelters of the Western Cape and other parts of South Africa.
They image and embody aspects of a San sense of time and its relationship to
narrative and space. these, of course, are interpretations and they depend upon an imaginative juxtaposition of images and texts rather than on the illustration of specific stories or ideas.


Clanwilliam is a small town located in the foothills of the Cederberg Mountains in the Western Cape of South Africa. For the past decade, UCT and Fairheads International Trust Company have sponsored art related projects in Clanwilliam, culminating in exhibitions, performances and lantern parades through the town. The themes of the project are derived from San narratives and images from the rock paintings in surrounding mountains. Hundreds of children participate in the event, making paintings and objects, attending workshops and forming part of the final performance and lantern-illuminated procession which evokes the first campfires and the story-telling performances of the San, who have been this project's inspiration. This publication is a document of one of these art and performance events.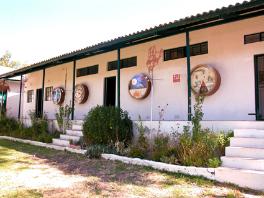 School Building with Clocks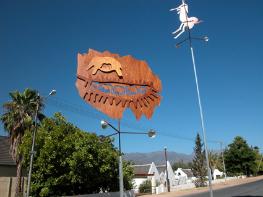 Wind Vanes in Park Street